THIS WEEK SAW OUR VERY OWN MANAGING DIRECTOR, JEMMA PEERS, TAKING PART IN A PANEL DISCUSSION AT THE CONFERENCE NEWS SUSTAINABILITY SUMMIT. THE CENTRAL THEME BEING 'DELIVERING A GREEN EVENT,' AND JEMMA HAD A WEALTH OF INSIGHTS TO SHARE.
The timing of her participation was particularly serendipitous. Jemma has been at the forefront of Top B's recent re-evaluation of our ESG Charter, with a mission to 'Do the Right Thing' and prioritise environmental responsibility in our daily practices.
Keep your eyes peeled for more on this front! We firmly believe that the event industry bears a responsibility to give back to the planet that has generously supported us.
We are massive advocates for education on this subject, so the Sustainability Summit offered another excellent platform to raise awareness. It's not just about flaunting a sustainability USP; it's about doing the right thing for the planet. We are all united in our pursuit of a more sustainable future. During her time at the summit, Jemma shared her insights and learnings in making a positive environmental impact through our events.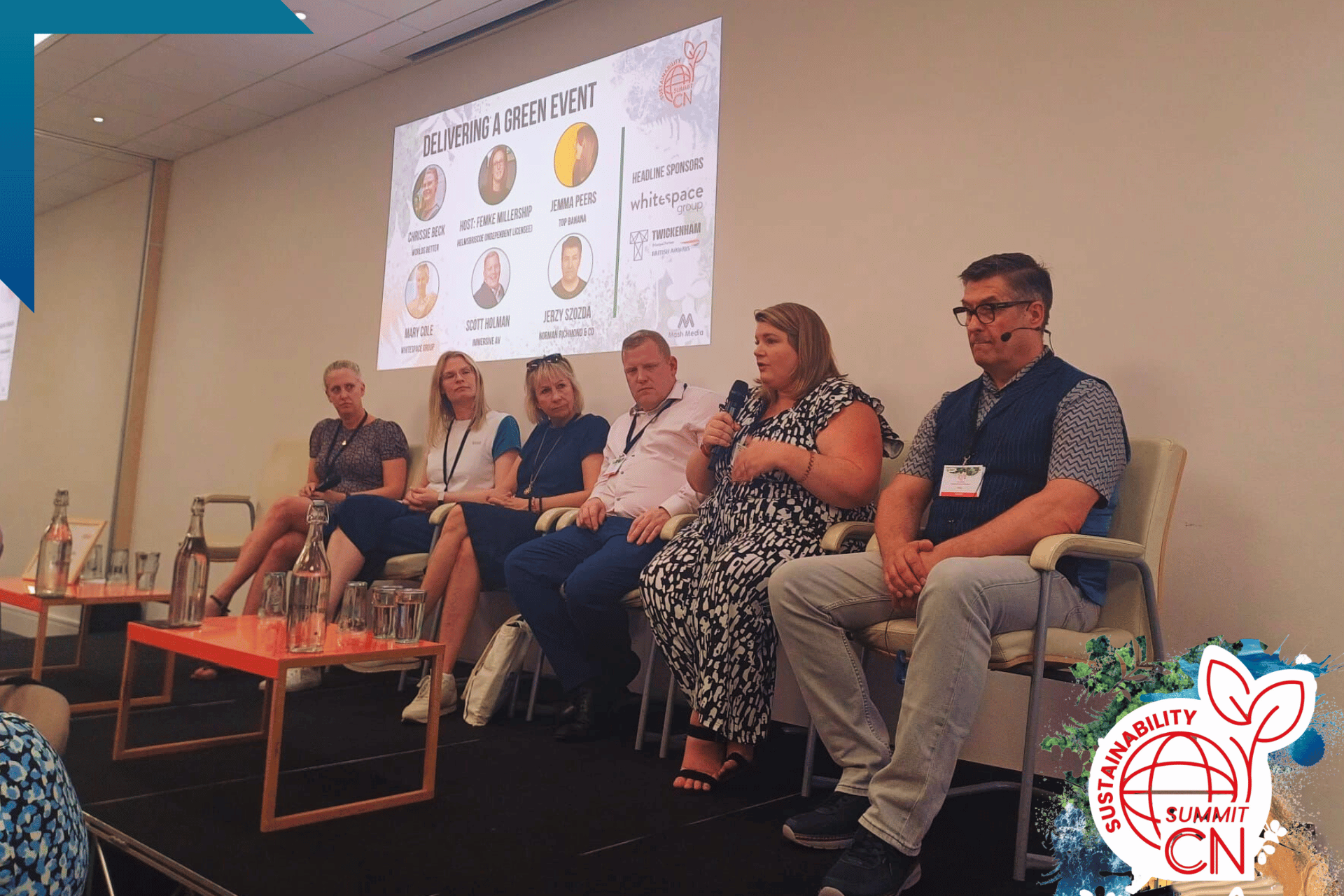 Some notable points discussed during the summit included:
How we can advise and educate clients to 'Do the Right Thing', opting for more eco-friendly events and practices.
Taking a client's brief and providing them with a tiered system for recommended sustainable venues, with the most sustainable destination based on the brief, having the sustainable conversation early is so important.
Suppliers are your best friend… There's a whole network of socially responsible businesses out there, who are dedicated to creating a more sustainable way of operating. Not only does this prioritise the planet, but you feel good whilst doing so!
The devil being in the detail, because who knew ink could play such a huge part in recyclable materials?!
In an industry where sustainable practices were once a rarity rather than a reality; we have pledged to embrace eco-conscious choices. And let's be clear, this doesn't mean compromising event quality. Quite the opposite, it elevates it! For instance, a recent event where we opted to serve a meatless meal to 1,200 delegates. The outcome was super revolutionary: a staggering saving of 7,220,400 litres of water and a reduction of 200,400 kilograms of CO2 emissions. That's a mega triumph for sustainability.
Environmental practices are no longer a mere luxury; they are an essential requirement. Clients increasingly seek partners who share their dedication to sustainability. We stand fully prepared to meet this demand and deliver green events that create a substantial impact. Events like the Sustainability Summit, coupled with our unwavering commitment to expanding our knowledge, have positioned us to respond effectively, determined to craft sustainable events that leave a positive legacy.
As we reflect on the summit, it is evident that motives weren't merely to engage in discussions but to stimulate action. Stay tuned for more sustainability updates from Top B and TBA Group, you won't be waiting long…